religious nonsense
thanx for the contribution: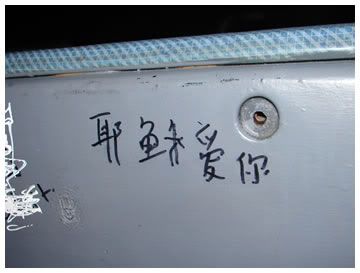 JESUS LOVES U
GOD IS THE LORD
BUDDHA EAT SHIT
okay.. personally, i do not wanna take side on any religious stand. there are black sheeps in any kind of organisation. and happens that some people are just less tolerant towards other religions. and we all know who they are, identifying all other religions as demonic spirits. very bad.. u guys make your innocent fellow religion look bad!
from my observation, this doesn't look like an SBS bus. could it be a private bus/vehicle?
if its a public transport, i'm gonna kill u if i see u. cos i love my buses and mrts!
special thanks to:
xing
http://xxingg.blogspot.com/2006/08/black-sheep.html
you are a responsible citzen!